by Rev. Dr. Dale Azevedo, Sr. Minister
I am so thankful to the BCCUCC congregation for the opportunity to take a sabbatical this year. It all came about on relatively short notice and has been a bit of a whirlwind getting everything ready (both in the church and personally). Thank you for your support in this endeavor. Below, I lay out some of what I want to accomplish during this time away. I hope you find it informative. When I return, I will be sure to find ways to share some of my experiences and learnings with you all.
Relaxation and Rejuvenation
Part of the focus of a sabbatical leave is rest and relaxation. My call letter specifically states this as one of the primary objectives. I plan to find rejuvenation in three venues: wheeling, travel, and spending time with Elizabeth.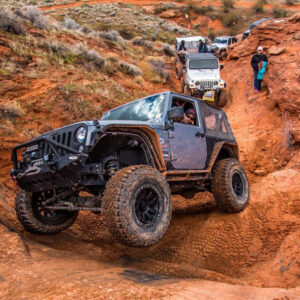 I shared in my last blog that one of the ways I "fill my bucket" is by taking my Jeep off-road. I am a member of the Baystate Jeepers, which is a Massachusetts-based Jeep club that focuses on off-roading on legal land and following "tread lightly" practices. While my sabbatical is during the off-season, I hope to organize a few ad-hoc rides through New England as well as a weekend trip in Pennsylvania. However, my big excursion will be traveling to the Winter 4×4 Jamboree in Hurricane, Utah. This is a four-day national event for off-road enthusiasts. I've never done anything like it and this sabbatical makes it possible. I only hope not to break the Jeep…too much.
To get the most out of this experience, I will be taking 5-6 days to drive out to Utah and another 5-6 days to return. I see this as a wonderful opportunity to see parts of the country and meet people I otherwise would never have had the chance to. I plan to take a southern route out and a northern route (weather dependent) back. Of course, I hope to do some wheeling in Arkansas and Indiana while I pass through those states!
This brings up the idea of travel. I will be taking this big trip to Utah, but Elizabeth and I hope to also get away too. We aren't happy flying during COVID times, so we are looking within driving distance. Since I want warm weather and Elizabeth wants to go birding, we are looking at South Carolina. It's a little bit of a drive, but at least I'll be spending the time with someone I love, and we will have plenty of time to talk in the car! Life is often so busy it sometimes feels like the week passes and we hardly have quality time to connect with each other. Hopefully, between this trip and the other times during my sabbatical, we will get some real quality time together.
Spiritual Practice
Another important part of a sabbatical is spiritual development. I read the Bible, pray, and talk about God all the time at work. But that often feels like work. Pastors seldom get time to really contemplate their faith and deepen their relationship with God. I hope to do so during these months away.
One thing I'll do is keep up with my Peaceful Pause & Prayer. Sadly, I won't be conducting live meditations every Tuesday and Thursday during my sabbatical as I regularly do. But I will keep up the discipline for myself. I have found this time truly rewarding over the past year and plan to keep up the practice while I am away. I may even do it three times a week, including Sunday mornings. And when I return, I wholly expect to invite you all again to join me in this practice.
This brings me to my next idea, worshipping at the synagogue. A few weeks ago, I reached out to Rabbi Voss-Altman at Temple Habonim and asked if Elizabeth and I would be welcome to worship with them during my time away. He responded saying that they would welcome us with open arms. I am really looking forward to the opportunity to deepen my ties with their membership as we continue to foster the special relationship between our two congregations. Elizabeth and I periodically attended Shabbat services while we were in seminary many years ago and look back on those times fondly. Of course, we'll need to find somewhere else to go on Christmas Eve!
Finally, I look forward to engaging in a practice of daily journaling. Some pastors take their sabbatical intending to start a particular focus of study or personal learning that will enhance their spiritual life or congregational leadership. I am choosing a different path. I am not entering this time with the expectation to learn something specific or grow in a particular way. I do, however, expect to grow and change while on my sabbatical. I am entering this time being more open to how God will work in me and through me. To facilitate and chronical this growth, I plan on journaling at the end of every day. Journaling has always been one of the most effective connections with God that I have had, and I anticipate that this special time will be no different.
Creative Pursuits
The final focus of my sabbatical is to take time to be creative. There is something special, even mystical, that comes over us as we create. I think this has to do with the connection it develops with the Great Creator (that's God, by the way). There are two pursuits I am contemplating.
During the summer of 2020 I took a course on storytelling and publishing. I took three weeks' vacation that summer which coincided with the course I enrolled in and started writing a book. It was a fictional adventure. I really liked what I produced, but quickly realized that I had only written the first act of what would end up being a five-act story. When September came around, I had to set it aside, as church became just too busy. Lately, I have been motivated to resume that writing. The one thing holding me back is that I know three months isn't enough to complete the work. I'd still have a third of it, at least, to go. I'll have to see how this plays out.
The other option is woodworking. I have long been a woodworker and REALLY enjoy creating with my hands. There is something special about taking a pile of lumber, working with it, and leaving behind a cabinet, dresser, or some other piece of furniture. It's been a long time since I crafted a large piece of furniture or other project. Doing this would be extremely rewarding…and reminds me of another carpenter we often talk about.
Well, writing all this down makes me question how much of this will really get accomplished! I look forward to the experience, my first sabbatical in 26+ years of ministry, and also sharing the results with you when I return. BCCUCC is a special and blessed church community. I feel blessed to be called to be your Sr. Minister and for our shared ministry. Please think of me often and include me in your prayers over the next three months. I will certainly be keeping you all in mine.