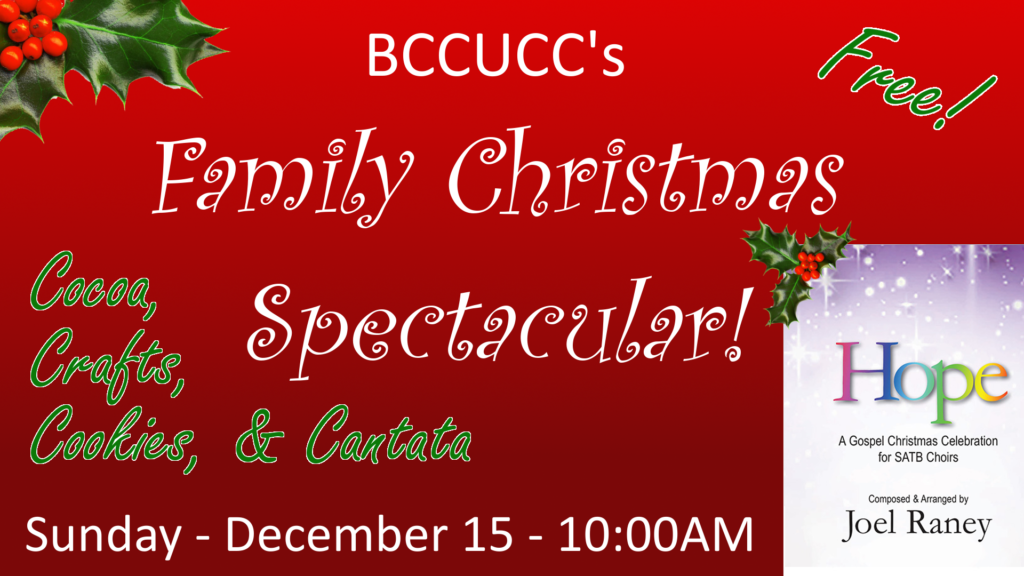 On Sunday, December 15, we will host our Family Christmas Spectacular. The festivities begin with a special service at 10:00 AM, where the BCCUCC choir, along with special musical guests, will present Hope! A Gospel Christmas Celebration, by Joel Raney. This upbeat and powerful telling of the Christmas story delights audiences with Christmas carols like you've never heard before interspersed with scripture readings on the theme of joy. People of all ages are welcome to stay in worship and enjoy the production, but childcare and special children's activities are available for those who need to get their wiggles out. At 11:00 AM, everyone is invited to retire to our fellowship hall for cookies, crafts, and hot cocoa! Listen to your favorite carols, enjoy the Christmas decorations, and nibble on holiday favorites while making family crafts that you can take home! The whole community is welcome to share in this special day to help get us all in the Christmas spirit.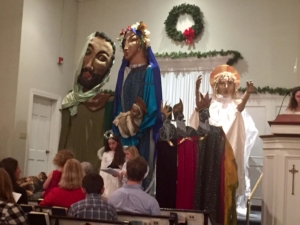 6pm – Family Service with Christmas Pageant
Our early service is a family-friendly pageant and carol sing. This year, we are returning to a more traditional pageant telling with our children reading and acting out the celebration of the Christmas story. Come to this joyous event as we bring the Christmas story to life as a community. The service includes carols with piano accompaniment.
10 pm – Traditional Service of Lessons and Carols
The Rev. Dr. Dale Azevedo will lead and preach at this traditional service of readings and carols. The readings will lead us through the Biblical story of our separation from God and into our promised reconciliation with God's through the birth of Jesus. Music is provided through congregational singing of many of our favorite carols along with special selections from our adult choir. All music is accompanied by Mrs. Marina Zabinski. Everyone is welcome.