by Rev. Dale Azevedo, Sr. Minister
Fill the Night with Music and Light
I know it may seem early, but your church leaders are hard at work preparing for this year's Christmas and Advent seasons. Did you know that Advent is only a few weeks away? For weeks now Dale, Linda, and Andrea, along with the Worship Tech Team, Chancel Team, and the choir, have been laying the foundation for a special Advent and Christmas Worship Series entitled, "I Believe Even When… Fill the Night with Music and Light."
This worship series will run from Nov. 29 through Dec. 27. It will include all four weeks of Advent, Christmas Eve, and the First Sunday of Christmas. It is a series designed to help bolster and celebrate our faith even during trying times. And NO ONE can say that 2020 hasn't held trying times!
The I Believe series focuses on seasonal scripture, powerful and upbeat music (including some old favorites), and congregational participation. Members and friends are invited to participate in many different ways that are outlined below. However, the best way you can participate is by showing up. Join us on Sunday mornings on Facebook or on the Website. I know it isn't the same as being togethe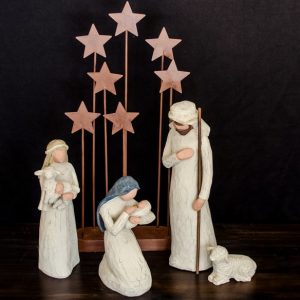 r in person, but this series promises to be provide numerous opportunities to have a deep and moving Christmas season even during these challenging times.
We need your help!
There are three main ways you can help make this worship series deeply meaningful for yourself and others.
Creche Pictures – Does your family own a creche? Do you ever set it up at Christmas? We'd like pictures of it even if it isn't fancy. I guarantee you there will be at least one rubber ducky creche! You can take a picture with your camera or phone and send it over to us. Either email it to Dale or Linda or upload directly to the "Creche Picture" link that will go out in the eBridge.
Fill in the Blanks – We will be utilizing a new litany each week written by members of the congregation. It's easy to help. All you have to do is fill in the blanks of this statement (see below) and email it to Linda or Dale.
"I believe that ___[fill in the blank with a lament, a sorrow, a confession]__ AND
I believe that ___[fill in the blank with a prophetic word of change or hope]__."
Example:
"I believe that we have looked the other way too many times AND
I believe that we are capable of facing reality and working for change."
Offer to Read – There are lots of opportunities to participate in worship throughout this series. Would like to read a short prayer or help "light" the Advent Candle? Would you kids, spouse, parents, or other like to read? Again reach out to Linda or Dale and we will be glad to help you record something (or perhaps be live on Sunday) if you would like to help out. We want EVERYONE to feel welcome helping to lead worship!
Create an Advent Wreath – Traditionally through each week in Advent we light one candle in the Advent Wreath. These candles often represent Hope, Peace, Love, and Joy. This year, CEYM is working with Andrea to put together Advent Candle kits for all our families registered for church school. However, everyone is invited to utilize your own Advent Wreath at home. It doesn't need to be elaborate. Just having four candles is all you need. Then you can light a new one each week during worship.