by Rev. Dr. Linda Hartley, Assoc. Minister
It's so wonderful to be back together once again in our beautiful sanctuary on Sunday mornings as we gather to worship. We've been so grateful for the technology that has allowed us to remain connected and worshipping together over these past many months, but it is a delight to see and talk with one another again in person. Of course, things are not quite the same as they were – we're sitting a little further apart from one another and we haven't been singing, not yet. As we follow the CDC guidance for gathering and keep up-to-date with the state requirements as well as guidance from the scientific and medical communities, we know the specifics we're following will evolve and change. And one of the things we're looking into is the possibility for resuming singing in our worship services. As we explore this possibility, we'd like your feedback.
As we're all probably aware, singing was at the top of the list for the ways Covid was spread at the height of the pandemic. The deep breathing required for singing as well as the forceful outbreath made singing a notable method for the
virus to spread. To safeguard congregations, churches began to meet virtually and, even as they have begun to regather, singing often has been put on hold. Now, with the increase in vaccination rates (especially here in the Northeast), many churches have not only resumed in-person worship, but have tested the water with regard to congregational singing.
A cursory scan of what churches are doing indicates that some churches have made the decision to have the congregation sing only two verses of hymns while wearing masks. Some churches have made the decision to have the congregation sing only the last hymn, provided everyone leaves the sanctuary immediately after the worship service, thereby limiting everyone's exposure to any airborne particles. Some churches have made the decision to have singing, but only at outdoor worship services where the risk of infection is much lower. As with many of the questions we still have as we are exiting the worst of the pandemic (at least in our area), there are no "cut and dry" answers to whether or not to return to congregational singing.
Here at Barrington, we have chosen to wait a little longer before stepping back into congregational singing. This hasn't meant that we have gone without music or our beloved hymns. In fact, we have been so blessed to have a video archive of music to choose from each Sunday. Because of the technological tutelage and experience of our own Erik Ela, members of our quarantine choir created many wonderful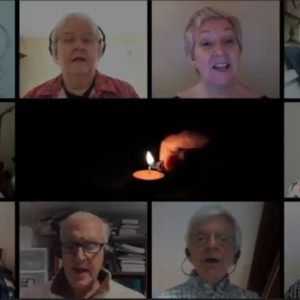 pieces which enhanced not only our virtual services, but which continue to lift our spirits each week. Music has always been and continues to be an important part of our worship experience here at Barrington.
Looking back over our video archive recently, I was surprised to see just how many pieces our choir recorded over the past year and a half – 55 hymns and 42 anthems! And this doesn't count the several other videos highlighting the musical gifts of our members and friends. What I see in this vast archive is how important music is to our communal worship experience, and how very creative our community is as we continue to seek ways to "make a joyful noise unto God."
The question now is whether it's time to re-engage in congregational singing here in our sanctuary. As Dale and I have been talking about this possibility, we have also been aware that our members and friends who attend Sunday worship are at different places in their comfort level in social gatherings. So we would like your input on this question. We are considering trying this out the first Sunday of August. We would still strongly request that everyone continue to wear masks for the safety of our children who are not vaccinated yet and for the safety of those members of our community who are still vulnerable. Because of this, we would sing while wearing masks.
For any individuals who are not comfortable with in-person gatherings just yet and for those living at a distance, we are grateful that we can continue to livestream our worship services. As Dale noted in his last blog, we have certainly had some growing pains as we've begun to learn the new technology that allows us to do this. But we're getting better at it. We surely weren't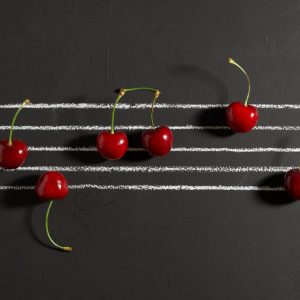 perfect in the beginning of our virtual services last year, but in a short time we got better at that until we almost became proficient at it – with a few hiccups here and there to remind us that we are human after all!
Being together again, we are reminded of the many ways we support and care for one another. I am reminded of this each Sunday as we lift up our prayers, sharing our concerns and joys with each other. Sharing those things we carry with others who care about us makes those concerns a little less heavy and those joys a little more joyful. It is a reminder that we are a community of faith where each one of us is important. It's because of this that we welcome your feedback about resuming congregational singing in August. In particular, we would like to know if congregational singing will prevent you from feeling comfortable in attending worship. If so, please let us know. Reach out to me or to Dale with your feedback. We want to hear from you!